On April 2nd, we played host to and were the title sponsor of the Girls Inc. Science Festival, "Girls RockIt Into the Future." The event is geared toward girls ages 6-18 and focuses on the STEM fields: science, technology, engineering and math.
While we think all Rackers are awesome, we think girls in tech are really awesome – which is why we support things like the Girls Inc Science Festival. We had 1,500+ people attend and visit more than 40 hands-on science experiment booths. By collaborating with other sponsors like Time Warner Cable, KCI, Valero Energy and Trinity University, we were able to bring the girls a fantastic opportunity to learn and love the STEM fields.
Highlights include:
A grand entrance by the Roosevelt High School drum line
A performance by the Roosevelt High School step team, Zulu Warriors
Rackers showing the girls what the inside of a server looks like and how they work
Star Wars Storm Troopers and Darth Vader taking photos with the kids
Raising over $750 for the Rackspace Foundation, just by selling HEXBUGS, those cool little robot bugs.
This video is of the USAA team's exploding Mentos/Diet Coke demonstration. It was taken by San Antonio Girls Inc. Ambassador Adriana Velazquez with a Flip camera. It is her very first YouTube video!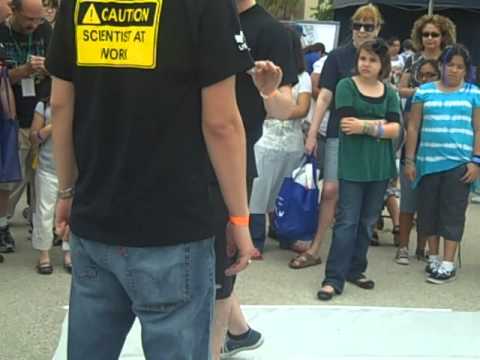 Check out the full post on NOWCastSA here.
Once again, we can safely say that Geeks Rule @ Rackspace!
Category: Involvement
Tags: Girls Inc., Girls RockIt Into the Future, Rack Gives Back, Science Festival